Troop Uniform Shirt
$45.00
Please note when looking at the sizing chart, there is a +/- 0.5″ variance for the Uniform Shirt and Light-Weight Cargo Pants.
Please Note: Returns are not allowed on products in Uniform Packages. Please be sure to read our Return Policy before ordering uniform items. Please consult with your Troopmaster to determine which package to purchase.
Description
NOTE: Certain adult sizes have limited quantities.
This distinctive 65/35 Poly/Cotton Rip-Stop fabric shirt is sturdy enough for adventure but dressy enough for the most formal flag ceremony or Trailman Court of Honor.
Very little sewing is required (one-time single Troop Number patch), as advancements are hanging patches on the hidden pocket buttons and quickly-replaced embroidered shoulder hoops.
A Trailman will leave the ceremony with his insignia in place. He won't need to sew a thing (except for the Timberline Award, if earned)!
Plus, because the same uniform is worn at all ages, it can easily be passed along to younger Trailmen as he grows!
Adult sizes come in two cuts – the regular cut is a slim fit, the full-cut is more generous in the shoulders and chest. Please refer to the size chart and measure as stated.
Sizing Chart:
This shirt is available in an athletic cut and a full cut option. The athletic cut is designed with a slightly tapered fit. If you are between sizes, we recommend you go with the next size up. 
How to determine your shirt size: Choose a button-up shirt that fits you well and measure across the chest approximately 1 inch below the underarm. Get the shirt that corresponds with that measurement.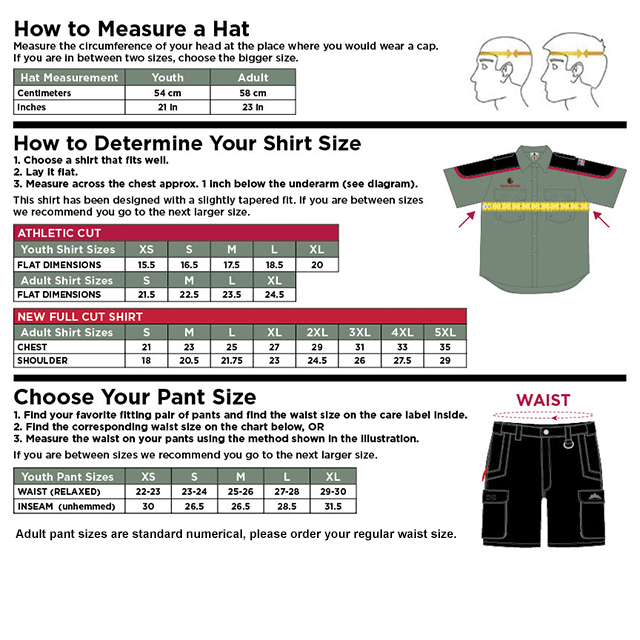 Please be sure to read our Return Policy before ordering uniform items.
Troop Leaders: Download this Excel Worksheet as an aid for placing bulk uniform orders.
Fantastic order experience
I ordered myself and my son a uniform. The order experience was fantastic and so very easy. I got the 3x uniform because I had read that the sizing chart was smaller than expected, but I found that the 3XL was too large. So I purchased the 2XL shirt and it fit just right. My normal size is a 2XL so the sizing chart was spot on. My sons shirt (youth large) was exactly the size he needed. Great job with everything!
XL Full Cut fits like normal XL shirts
I tried the regular XL (Too tight in anrms) and the 2XL (extra baggy fabric). The XL Full Cut is what is a normal XL dress shirt and fits well.
Buttons fall of easily. They are cheaply sewn on. This seems to be a repeat report on the reviews.